With three separate seating areas and turn – of – the – century entertainment, including a Puritan Victrola music box, vintage radio and player piano, this parlor sings with the sounds and elegance of yesteryear.
Select from the large collection of books in the built-in bookshelves or just relax. A wonderful surprise to be found in the library is the collection of Laurel & Hardy memorabilia, including an autographed picture, movie poster and videos of this hilarious duo.
Here you will be served homemade muffins or other fresh-out-of-the-oven baked goods on antique Haviland china. The delicious breakfast also includes a selection of fruit, granola and seasonal specialties.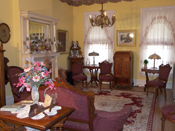 A special place to repose, the living room is lovingly furnished from an Oriental rug to full-length Victorian mirror. Gather to share a story, meet the other guests or learn about railroading from owner and noted author of railroad history, Chuck Damaske.